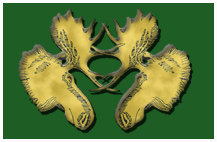 GREETINGS UNTO THE POPULACE:
Hail and well met unto good friends new and old. Mooselodge is a Greater Household that spans many Kingdoms throughout the Known World. Stemming from its martial founders, Sir Forgal Kerstetter, Duke Anton Tremayne, and then Duke Cuan Macdaige, the Lodge has grown to include Peers and leaders of varied skill, talent and focus. Our kin have served on thrones and lead armies to war as Generals and Warlords, served on the BOD and helped build new groups within the SCA. And many of our artisans have been recognized the Known World over. As a family, we have been working together long enough that some are born into it, and now have kids of their own!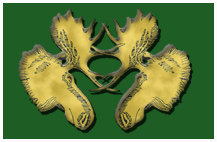 COLORS: Green & Gold
MOTTO: "Service before Self" and "The Family You Choose"
LEADERSHIP:
In the Lodge, all Peers have equal purchase and equal voice. Here in Trimaris, and for more information on "the Haps of the Lodge", you are encouraged to engage the following for any question or concern… preferably with a beer…: Sir Forgal Kerstetter (OP), Duke Martin (OP), Duchess Islay (OR, OP), Duchess Cerric (OR, KSCA), Jarl Valbrandr, Maestra Ambra (OL), Sir Hjorr yggr, and Mistress Melissent (OL).
HOW WE STARTED:
The year was 1989, the year Sir Forgal's first squire, Duke Anton, became a knight. Once knighted, the two came to the conclusion that, as they shared the same core values, and did not wish to be parted, they chose not to. Thus, they formed "the Mooses Lodged', for like the emblem's antlers they foresaw many branches but as part of a greater whole. And so began our Greater Household, the Mooselodge.
Pennsic 1989: Pictured: Sir Forgal holding a sword, Sir Daffid is kneeling (RIGHT) His Majesty Michael of Bedford (BEHIND FORGAL)
Duke Gyrth (LEFT), Her Majesty Duchess Seonid and Squire Duke Anton (CENTER)
MISSION/MESSAGE:
Our primary mission? To create an environment to grow our next generation of leaders and maintain the fun we enjoy from each other's company. Why? Because that's what family does. "To the Mooselodge, the Green and the Gold, To the Crown, We share of our cup and we'll give some to ground, So that those who are absent may ever be found, In the heart of the family we choose Aye this is the Family we Choose!" "The Green and Gold, the black and white, The blue and gold, stand up and fight With Chivalry and Honor's might, Stand up with the Lodge!" "We forge our own Valhalla."
OUR  HOUSEHOLD INTERESTS:
All the things!
WHAT WE ARE KNOWN FOR:
Foundationally, our efforts began on the Martial field. But we have evolved to walk all paths. What are we most known for? Depends who and in what kingdom you ask. We find it best to let deeds speak for themselves. We are united. We are diverse. We have like values and disparate philosophies, all. We are a family.
KINGDOM  CHAMPIONS:
Ambra – Rose Heavy Champion (2018) Art-Sci Champion (2017) Ward Bard
Valbrandr – Princess Guard, Spearman of Trimaris, Champion of Trimaris
Valbrand – Champion  of  Wyvernwood, Darkwater, An Crossaira, and The Shire of the Ruins.
Moose – Champion of Sudrholt
Os – Champion of Sudrholt
WAR HONORS:
3 War Unit Awards while serving in Trimaris : Lion's Pride – 2022, Gulfwar Atlantia Vexilium – 2010,  Gulfwar – acknowledged by our allied kingdom Lion's Pride
Gulf Wars Knowne World Bardic Challenge for 1 war Point, annual GW competition) Ambra – has won this twice in service to Trimaris
LAUREATES: ( *** indicate multiple honors in a year, one * per honor)
Melissent – Troubadour, Poet, Masque (2009, 2011**, 2012, 2013, 2014, 2020**)
Ambra – Troubadour, Poet, Masque, Jongluer (2010, 2012, 2015***, 2017, 2018)
Cerric – Jongluer
Stagmarra – Troubadour
Birna – Poet
INFORMATION FOR THE POPULACE:
We give great thanks to the works of every Peer and Beloved Member of the Mooselodge who has toiled in love over the years to build what we share today. But especially do we offer our appreciation unto our founders, who strove mightily back in 1989 (and still today) not only to preserve our traditions, but also to encourage our history and culture to evolve as we grew, and to allow for new voices and leaders to be heard, grow, learn, and lead. As is our way.
HOW TO JOIN:
To join the Mooselodge, come spend time with us. Engage a Lodge Peer to learn more, travel together, come to know each other, and try to ensure the fit is harmonious. Ideally, you'll be with us for life. So its a decision worth taking a beat to consider. The most prevalent way to join the Moose Lodge is to swear fealty to or join in a student relationship with a Moose Lodge Peer. For questions, seek them out to learn more.
Within the Mooselodge, each Household is administrated independently by the Peer of that house, and, as applicable, the Moose Lodge comes together for training, projects, and reunions, as the occasion merits. Each new Peer who elevates while in fealty to a Peer of the Lodge is considered "A Peer of the Lodge – Equal Amongst All Others", and builds their new household under the Greater House Mooselodge banner. If they so choose, any Mooselodge Peer may break off from the Greater House to follow their separate path, with all due honor, respect, and support.
WORKS CREATED BY OUR MEMBERS:
The Lodge – A bardic piece written by  Baron Bryce D' Byram (OL, OP, KSCA) some verses written by close kin at the author's discretion.